0 comment
Wednesday, April 30, 2014
|
admin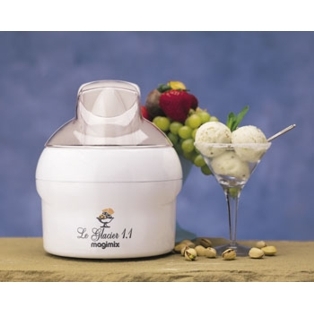 Best. Investment. Evah.
Last year, when I was walking relatively well enough to pick sprog up from school, we would stop at the ice-cream truck, which was strategically parked at the top of the hill. Great impetus for making the climb, sure to grab loads of kids and yet far enough away the driver couldn't be 100% blamed for ice-cream induced tantrums if parents tried to evade the truck. To encourage positive behaviour at school, if he had a good day I'd buy him a small cone. It was Our Thing to Do after school, and I would always raid the change jar to treat him if I could.
Now that he's managing to get taxied there and back again, we've been missing out on the ice cream ritual, and the ice cream trucks don't come this way. So I decided to save up last month and bought a small ice cream maker, just for us.
So far we've had raspberry-yoghurt, Baileys ice cream using Baileys double cream, a very rich vanilla ice cream with egg yolks and bits of leftover Easter chocolate, and today, a blood-orange/tangelo sorbet which was amazingly good. This is probably not helping my waistline much but I like knowing what's going into the mix, and giving an extra dose of vitamin C in sorbet form never hurt either of us.
It inspires me to get creative as well; I've got some fresh mint growing outside and I'm just dying to figure out how to make a proper mint-chocolate chip, maybe even using raw chocolate nibs. I am now sure to try and keep some long-life double cream in the fridge and the ice cream bowl frozen in case the mood strikes.
Sitting at our patio table eating ice cream after dinner is turning into yet another Our Thing to Do, and I really can't get enough of those moments. Sprog knows summer is on the way, as he asked me for a barbecue this weekend, and I will certainly oblige! Already got the charcoal and sausages on the ready!
Labels: Food, Good Life, Sprog